Our Teachers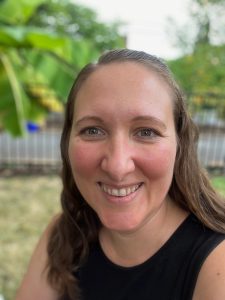 Erin
Pronouns: She/her
Erin's interest in teaching and helping children grow goes back further than she can remember. She has been teaching for over 24 years, with the majority of her time focused on preschool. For the last 18 years Erin has been teaching in the Reggio style, and her passion for this approach to teaching motivated her to create her own preschool over eight years ago. Erin feels that the flow of education in the form of "play" speaks to her own style of learning, and has seen this echoed in the educational and emotional growth of children in the classroom.
Continuing education has always been a focus for Erin through her entire teaching career, including studying Early Childhood Education at Western Oregon University. She currently takes continuing education courses in Child Development offered by Opal School, Mentor Graphics, Helen Gordon center and other local Reggio based classes. Other groups that she enjoys learning from include Multnomah County Childcare Resource and Referral, Mount Hood Community College and Portland Community College and The Swindell's Center focusing on supporting children with special needs in an inclusive classroom setting.
Healthy eating and staying active are very important to Erin. Her hobbies include knitting, gardening, hiking, camping, and volunteering for local groups.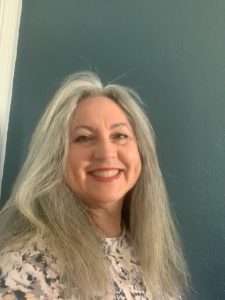 Diane
Pronouns: She/her
Being apart of Overlook Collaborative Preschool starts an exciting new chapter for Diane! She recently arrived to Portland from San Diego, CA where she had been teaching art in an after-school program for the past nine years with children ages kindergarten thru 5th grade.
Diane has a love for the Reggio Emilia philosophy, which has brought her back to working in a preschool setting. Being able to encourage children to explore and create in their natural setting brings her a lot of joy.
Diane obtained her A.S. Degree from Mira Costa College in Oceanside, CA, in Child Development with an emphasis in art. She also has a diploma from the Interior Design Institute in Residential Design. Diane worked previously as a lead teacher at Elm Park Preschool as well as an assistant teacher at Maranatha Preschool in San Diego. She interned at the Ecke Family YMCA preschool in Encinitas, CA where she was able to apply her Reggio education.
Diane has 2 children, and 2 grandchildren who have all been involved in many of her art projects over the years. She loves reading, nature hikes and spending time with family.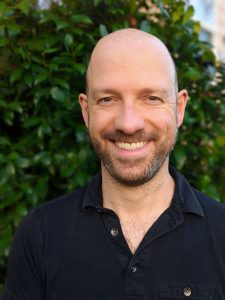 Darin
Pronouns: He/him
Darin has been part of the school from day one. He is a key member of our teaching staff who acts as daily support for teachers and children when needed. As an extra helping hand, Darin is always available when our school is taking on larger projects. He enjoys time with the children, as well as documenting projects through pictures and the daily journal. He is our substitute teacher, handyman, creator of structures and objects in our indoor and outdoor environments and loves taking a hands-on approach to the development and evolution of our school.
Darin graduated from the University of Oregon with a B.S. in Fine Arts, focusing on computer graphics and graphic design. He thrived on his experience so much he stayed for another year and earned his Bachelors of Fine Arts (B.F.A.). Darin has always had a keen eye for design and enjoys technical and structural problem solving. He is a self-taught woodworker, electrician, repairman, tinkerer and loves taking on MacGyver-level projects. Creating something new and original is a challenge he thrives on.
Darin loves spending time with family and friends, working on his (and Erin's) 1990 Volkswagen Vanagon, keeping up with technology, working on projects for the school, skiing, hiking, rock climbing, kayaking, reading sci-fi and writing electronic music.