Enrollment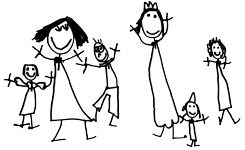 We are excited that you are interested in joining our community!
Our school offers open enrollment throughout the year. Please contact us to verify space is available. We will answer any questions you may have and schedule a time for you to tour the school.
Admission is accepted based on a lottery system, once it has been determined that Overlook Preschool is able to support the needs of your child and your family.
Hours & Ages
We are open from 8:30 am to 12:30 pm, Monday through Friday.
Children ages 3 to 5 may attend Overlook Collaborative Preschool. We welcome children and families of all races, religions, cultures, orientations, abilities and ethnic origins. We strive to encourage and support the diversity of every family structure.
Tuition for 2018/2019
For your convenience, the yearly tuition is divided into 12 equal monthly installments. The installments remain the same regardless of absences, school closures or vacations.
3 days a week  –  $530 / month
4 days a week  –  $660 / month
5 days a week  –  $780 / month
There is a non-refundable enrollment fee of $200. The school does not have a waiting list, and only the enrollment fee reserves your child's space. The enrollment fee is used to cover the cost of supplies and materials.
Your last month's tuition payment is due one month before your child's first day. Your first month's tuition payment is due one week before your child's first day.